24 HOUR PIZZA PEOPLE - MAGAZINE - BOLOGNA - PREZZO SPECIALE 10 EURO (prezzo copertina 15 euro)
00001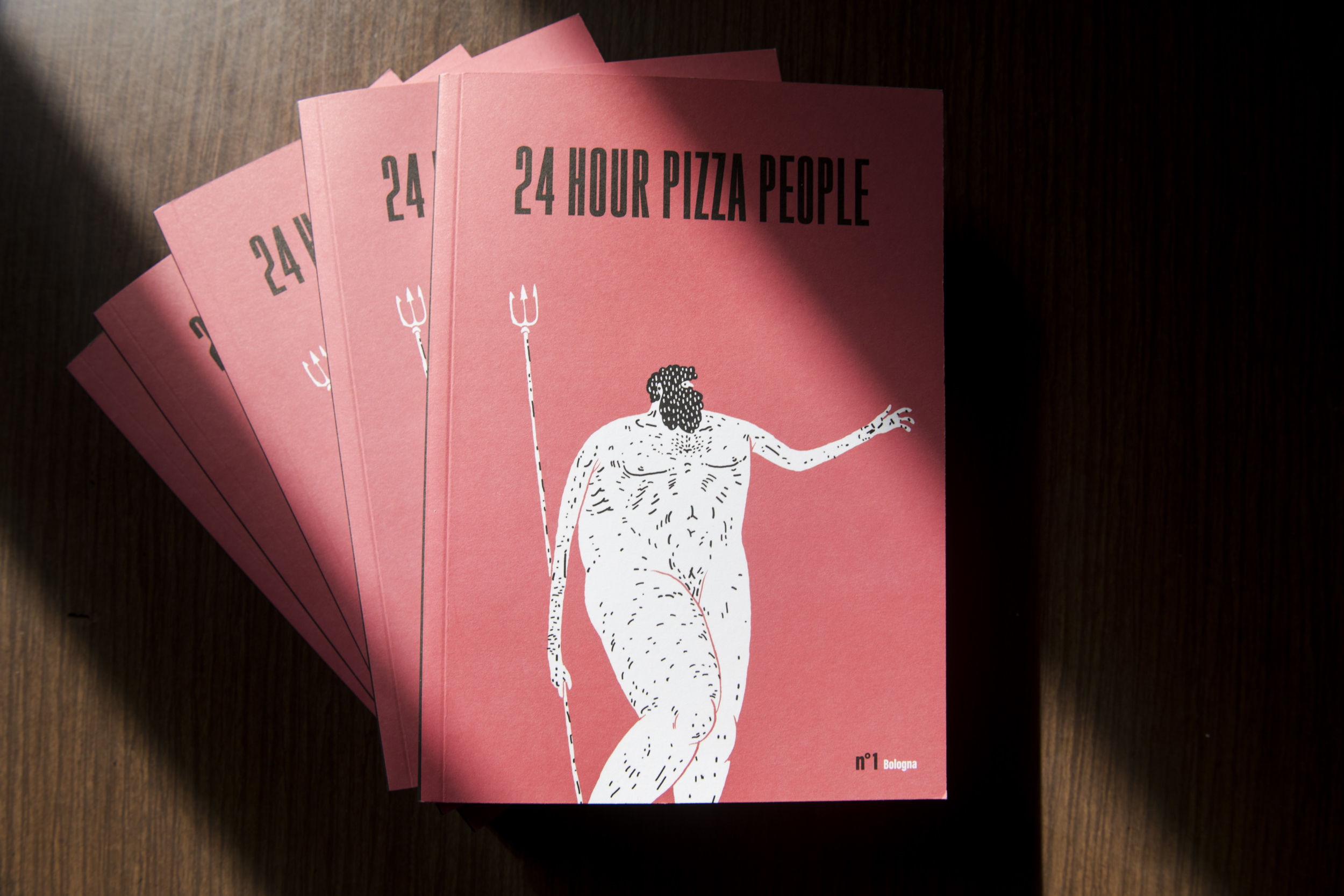 Il magazie - composto da 100 pagine - suddiviso in 8 sezioni, è il frutto di un lavoro collettivo che mette insieme autrici e autori, fotografi, artiste e illustratori bolognesi.

Il primo numero di 24 Hour Pizza People inaugura le sue prime pagine con la rubrica Una passeggiata tipografica di Simone Sbarbati, fondatore della webzine Frizzi-Frizzi, un libero girovagare attraverso le vie di Bologna. In 8 facce spetta alla giornalista freelance Giorgia Olivieri il compito di raccontare, attraverso 8 interviste a personalità creative della città, il caleidoscopio di esperienze e istanze che caratterizzano la città felsinea.
Il prof. Giovanni Dinelli dell'Università di Bologna in Agronomia della pizza affronta l'argomento del tanto demonizzato del glutine. Non poteva poi mancare una dissertazione attorno al mondo della pizza a Bologna attraverso la voce dei suoi protagonisti, fra cui anche i fratelli Aloe, raccolte da Martina Liverani in Di cosa parlano quando parlano di pizza.
A Matteo Aloe spetta di raccontare la prospettiva del vivere la città come fuori-sede in Bolognese si diventa.
Bologna è anche tanta musica, e in A cena con Birth la giornalista Benedetta Cucci intervista una delle nuove protagoniste della scena musicale internazionale che in città ha coltivato il suo talento. La food writer Giorgia Cannarella in Pizza e Lambrusco racconta un'altra grande rivoluzione che sta attraverso il mondo enogastronomico italiano e non, quella legata al vino naturale. Infine la Bologna della street art raccontata dal collettivo Cheap, progetto indipendente che promuove la street art come strumento di rigenerazione urbana e indagine del territorio.
The magazine – comprised of 100 pages divided into 8 sections – is the fruit of a collective labor that brings together Bolognese authors, photographers, artists and illustrators.
The first edition of 24 Hour Pizza People opens its first pages with the article "A typographic walk" by Simone Sbarbati , founder of the webzine Frizzi-Frizzi, a free wander through the streets of Bologna. In "8 Faces" the freelance journalist Giorgia Olivieri recounts, through 8 interviews with creative personalities of the city, the kaleidoscope of experiences and instances that characterize the city of Bologna.
The professor Giovanni Dinelli of the University of Bologna in "Agronomy of Pizza" confronts the subject of the frequent demonisation of gluten. Of course it would not be complete without a presentation on the Bolognese pizza world through the voice of its leading players, including the Aloe brothers, by Martina Liverani in "What They Talk About When They Talk About Pizza." Matteo Aloe tells his perspective on living the city from afar in "Becoming Bolognese."
Bologna is also very musical, and in "At Dinner with Birth," the journalist Benedetta Cucci interviews one of the new leaders on the international music scene that has cultivated his talent in the city. In "Pizza and Lambrusco," food writer Giorgia Cannarella tells the story of another great revolution sweeping the enograstronomic world within and beyond Italy – natural wine.
Finally, the street art of Bologna is recounted by the collective Cheap, an independent project that promotes street art as an instrument of urban regeneration and exploration of the region.